Using Podcasting in the Classroom: Activities and Recommendations

There seems to be a podcast for everything and everyone. And a growing number of people are finding their audio niche: More than a quarter of Americans listen to podcasts weekly, according to The Infinite Dial 2021. The audience is more diverse than ever, spanning all age groups. As of August 2020, Ipsos reports that 1 in 4 children listen to podcasts — a 20% increase from six months prior.
Educators are acting on these changes: TeachersPayTeachers.com reported a 650% increase in podcasting lesson plans after the launch of Serial in 2014.
The shift from listening at home to using podcasts in the classroom is not without cause. Speaking and listening skills are a part of the Common Core standards, which include interpreting diverse media and identifying speakers' arguments, claims and rhetoric.
Audio learning is valuable for a lot of students in a way that purely text-based learning is not. Among children for whom English is not their primary language, podcasts let them hear spoken English and follow along with a transcript. The Reading Rockets public media literacy initiative states that children are able to listen and talk about more complex ideas than they can read and write about.
Additionally, the sheer amount of podcasts available afford children the opportunity to learn about things they are interested in and delve deeper into unique topics they might not otherwise have access to.
Preparing Students for Podcast Lessons
Before sending students home, educators should make sure students have access to all the resources they need to make the most of a podcast-based lesson plan and that selected content is appropriate.
Consider the following guidelines when assigning audio-oriented activities.
Provide access to supplies and devices. If a lesson requires listening to a podcast, every student will need access to a listening platform (such as Spotify, Stitcher or SoundCloud), a device to listen on (i.e., phone or computer) and headphones. For recording, students will need a device such as a smartphone. There is free editing software on some computers, and schools may have access to educational licenses.
Listen for yourself. If you are assigning a specific podcast, listen through the material just as you would a novel. Keep an ear out for content or language that might be inappropriate for your audience or that you will need to prepare students for. Take note of any warnings you want to share with administrators and guardians.
Let students have some decision-making power. When possible, allow students to choose podcasts they are interested in and focus on topics that energize them. You can set boundaries using minimum or maximum length requirements or subject matter restrictions. You may also consider imposing standards for the podcast source, or take the time to approve selections in advance.
5 Podcast Activity Ideas for the Classroom
There are plenty of ways educators can begin teaching podcasts in the classroom, regardless of subject area. Below are some lesson plan ideas for teachers who want to use podcasts as learning tools for their students.
Audio-Based Research
Podcasts can be an informative source for research, either through scripted, non-fiction series that delve into a specific topic or news briefs with interviews from experts and people affected by a story.
This lesson modification can work with almost any existing research project or essay — anything that requires cited sources. Instead of traditional text resources, ask students to cite at least three primary and three secondary sources that come directly from podcasts.
A primary source is a firsthand account of events created at the time they happen or shortly after. The New York Times podcast The Daily often uses primary sources, and reporters interview people about their lived experiences for a story.
A secondary source is an analysis or synthesis of events and primary sources. Also from The New York Times, 1619 is an audio series examining the beginnings of American slavery and is an example of a secondary source.
Start here: Citing podcasts in MLA format
Rhetorical and Argument Analysis Through Sound
Rhetorical analysis breaks down nonfiction to explain how a piece works using ethos (authoritative), pathos (emotional) and logos (logical) appeals. Often, students analyze written work.
In this activity, students complete a rhetorical analysis of a nonfiction podcast.
Pair students up and have them each select a nonfiction podcast to analyze, such as an episode of This American Life from NPR.
Take annotations or notes as you listen, marking the timestamp for each observation. Pay special attention to appeals made by the host.
Discuss with your partner what makes this episode compelling. What does the host want you to believe?
Based on your notes and discussion, determine the appeals used in this piece and provide examples.
Ethos appeals to character or credibility. Does the host demonstrate authority over the topic and respect for multiple viewpoints?
Pathos appeals to emotions. How does the host use sound to make you feel about the topic?
Logos appeals to logic. What facts does the host use to support their claim? Is the episode arranged logically?
Start here: Using Serial as an example of rhetorical analysis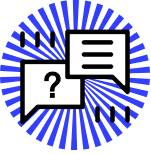 Learning to Interview
Practicing interviews is a great way for students to learn how to ask incisive questions, listen actively and improvise. In this activity, ask students to conduct an interview with someone in their life and submit an edited audio version of the conversation.
Each student should select someone to interview. This could be a friend, family member or person in their community they find interesting.
Listen to podcast interviews in preparation. What kinds of questions do hosts ask? How do they use silence to compel the interviewee to speak?
Gather the information you already know about the interviewee and use it to inform the questions you want to ask.
Make a list of questions for the interview.
Conduct and record the interview in a quiet space.
Start here: How to help students develop interviewing skills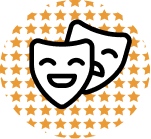 Dramatization and Storytelling
Turn a typical reading into an audio drama. Instead of reading aloud required text in class, such as Macbeth or A Midsummer Night's Dream, have students reproduce an audio-only version.
Assign parts just as you would with a regular reading, but give students time to prepare in advance. Ask them how else you can engage listeners in the text. What additional sound effects could you make? How could music enhance the experience?
This activity focuses on the different types of sound instead of producing a clean episode or reading. Record as a class in a single take.
Start here: Oral storytelling and dramatization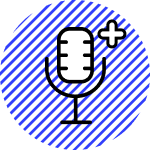 Producing a Podcast
This long-term project idea could take place over the course of an entire term and teach students about the entire life cycle of a podcast and its production.
Divide students into groups and have them pitch a semester-long podcast they want to produce. Students should be able to describe what potential episodes would cover and come up with a plan to divide different responsibilities.
Write an outline for the first episode that includes any interview questions, prepared research and time checkpoints.
Record and edit your first episode.
Peer review another group's first episode and provide feedback on the production, theme and execution of the idea.
Cycle through steps two through four for the rest of the term, at a predetermined cadence.
Start here:
How Can Parents Use Podcasts?
Lesson plans are not the only way children can reap the benefits of podcast listening. In fact, many parents who listen to podcasts are already sharing them with their kids: 64% of parents who listen at least a few times a week are likely to pay for podcast service for their child, according to Morning Consult.
There are plenty of opportunities for parents to incorporate podcast listening into their daily lives and as shared media with children. For example:
Replace screen time with podcast listening. Fictional stories and dramatizations can spark the same imagination and engagement while encouraging active listening.
Switch up bedtime stories to audiobooks or episodes. Give your own voice a break and put on an audio story before bed. There are podcasts dedicated to telling kids bedtime stories that will put them right to sleep. Wondery's Stories Podcast is one example.
Listen together during daily life. Podcasts can be a shared soundtrack to the mundane, such as chores and running errands. They can also accompany you and your child on long trips or time spent cooking together.
Podcasts Suitable for Kids and Teens
Looking for a podcast suitable for the classroom, car rides or bedtime? Below are shows to consider for children and teenagers.
Podcasts for Children
Brains On from American Public Media
Every week, host Molly Bloom is joined by a kid to answer scientific questions — from why we get songs stuck in our heads to how germs are spread.
But Why from Vermont Public Radio
Experts answer questions from kid listeners about the world: Why are fireworks bright? Why aren't babies just little adults? Parents can submit recordings of kids' questions to questions@butwhykids.org.
Grandma for President from Audible
Eleven-year-old Bennet accidentally gets his grandma in the running for U.S. president. Follow along with this 10-episode series as Bennet learns about democracy, elections and the power of one.
Live From Mount Olympus from Onassis Podcasts
This dramatization of the story of Perseus details his quest to save his mother from an evil king.
The Past and the Curious from Mick Sullivan
A podcast on the little, often unknown details of history. Host Mick Sullivan uses music and humor to tell stories about people like astronomer Edwin Hubble and Maria Tallchief, the first American ballet dancer.
The Radio Adventures of Eleanor Amplified from NPR
In this adventure series, radio-reporter Eleanor Amplified pursues the biggest story of her career and foils devious plots along the way.
Story Seeds from Macmillan Children's Publishing Group
In every episode, a kid and a professional children's book author collaborate on a story idea to turn it into a reality.
The Unexplainable Disappearance of Mars Patel from Gen-Z Media
This scripted podcast is performed by middle-grade students and tells how 11-year-old Mars Patel and his two friends embark on a mysterious journey to find their missing pals.
Podcasts for Teenagers
Some of the podcasts below may contain explicit language or mature themes. Please review specific content on your own when deciding whether it is appropriate for your audience.
Dear Hank and John from Hank and John Green
Brothers and authors Hank and John Green answer emails from listeners and provide advice in this comedy podcast that touches on the lighthearted and the emotional.
The Mortified Podcast from Radiotopia
Adults get on stage and read aloud from the most embarrassing diary entries, love letters and songs they wrote as teenagers.
Song Exploder from Hrishikesh Hirway
Each week, host Hrishikesh Hirway asks artists to explain the decisions behind creating a specific song in their discography. Previous guests include Billie Eilish, Bleachers and Lorde.
Stuff You Should Know from iHeart Podcasts
Hosts Josh Clark and Chuck Bryant research and explain a new topic every episode: Vocal fry, the electoral college and Rasputin are a few potential lessons to listen to.
Five teenagers talk through the ups and downs of high school as they are experiencing them. The hosts recommend first-time listeners start with their episodes "Is Acne Beautiful?" and "The Realities of Our Friendship."
This American Life from NPR
This American Life has been on the air since 1995, compiling stories around a certain theme every week for listeners. Host Ira Glass put together a playlist for newcomers: New to This American Life?
Podcast Recommendations for Teachers
There are podcasts for almost every professional audience, and educators are no exception. Check out some of the podcasts below for professional development tips and storytelling for teachers.
#EdChat Radio from BAM Radio Network
Weekly highlights and conversation about the #EdChat Twitter are among discussion topics for educators.
10 Minute Teacher Show from Vicki Davis
A brief episode every weekday brings teachers 10 minutes of professional development. The host provides a documentation template for educators who want to receive continuing educationcredits for listening.
The Creative Classroom from John Spencer
Host John Spencer spends about 20 minutes every Monday exploring the creative process: How can teachers use strategic confusion? What can food trucks teach us about hybrid learning?
Cult of Pedagogy from Jennifer Gonzalez
Host Jennifer Gonzalez interviews educators, students and parents about the biggest topics in education right now. Educational technology, school reform and classroom management are all fair game.
Educational Duct Tape from Jake Miller
This podcast focuses on educational technology as a tool to solve problems in the classroom and meet goals.
Teaching Hard History from Learning for Justice
Host Dr. Hasan Kwame Jeffries starts with the history of chattel slavery and continues through the Jim Crow era, sharing lessons many don't learn in the classroom and advice for teachers who want to change that.