The 2022 Guide to Online Master of Architecture Programs
Are you intrigued by natural beauty, conceptual design or exquisite aesthetics? Are you equally drawn to mathematical formulas, maps, and the study of raw materials and how they're used? If so, a career in architecture might be a good fit for you.
Architecture can be described as the art and science of building, and architects have been an integral part of society since civilization began. Classical, Gothic, Renaissance and other styles of architecture that emerged centuries ago continue to influence the architecture we enjoy today in our homes, businesses, government buildings, theaters, places of worship, and more.
There are several online master's architecture degree programs that allow students to delve into both the theory and the practice of architecture. Online programs are particularly attractive to full-time employees or people who for other reasons, need the flexibility to complete coursework.
Read on to discover more information on the practice of architecture and common steps to take to become an architect.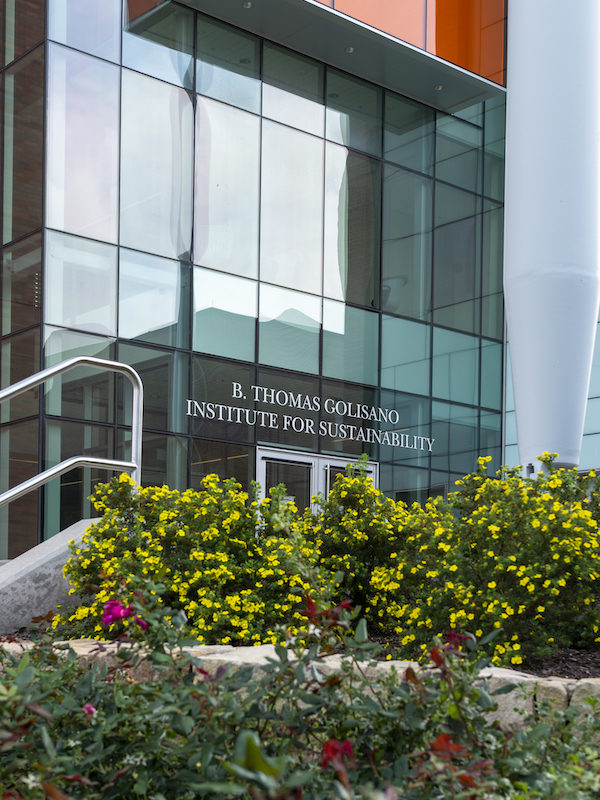 RIT's online M.Arch. for sustainability-focused architects. Career changers welcome. Bachelor's degree required.
Take the first step toward becoming a sustainability-focused architect with RIT architecture online. Earn your degree from one of the first M.Arch. programs to be built for online. Bachelor's degree required.
One of the first M.Arch. programs to be built for online.
Advanced standing pathway available.
No GRE required to apply.
info SPONSORED
What Can You Do With a Master's in Architecture?
While you can enter the architecture field with a bachelor's degree, possessing a master's degree in architecture may prepare you for higher-level positions that include management of others and advanced design-making.
Licensed architects write technical manuals, make presentations to current and prospective clients, consult with engineers, builders and other architects, and develop plans with project specifications, such as what kind of paint should be used on outdoor steel. They work in offices but sometimes visit construction sites to ensure projects go as planned.
The architecture field is broad and includes residential, commercial, and restorative specializations. You also might focus on a sub-specialty, such as environmental building and sustainability or interior architecture.
The job of an architect in a large metropolitan area may differ from that of one in a small community. The latter may not work on skyscrapers but may be more involved in every aspect of a project and managing client relationships. Indeed, the day-to-day duties of an architect vary for any number of reasons, including architecture firm and area of practice. Some architects sketch freehand and prepare client presentations. Others use Computer-Assisted Drawing (CAD) software to correct building plans.
An architect's area of practice typically starts taking shape in their degree program, where you learn about 3D drawing, design theory and more. In a master's program, you have the ability to acquire new skills, prepare for architectural licensure (depending on your state board's requirements) and network with professionals in the field.
Can You Earn a Master's in Architecture Online?
Several esteemed institutions offer online master's in architecture programs and programs with limited on-campus instruction and short residencies that help to bring coursework to life.
Live classes are a key feature of online programs. In some online programs, students have access to asynchronous course content, such as videos, narrated slideshows, digital documents, and interviews with experts. After they complete their assignments, they upload their work to a custom-designed Learning Management System (LMS) where it's shared with classmates. The instructor can then leave visual markups as well as written and recorded feedback.
While many of the online graduate degree programs in the field focus specifically on architecture, some offer specialized concentrations such as sustainability, architecture management or interior design.
NAAB-Accredited Online Architecture Degree Programs
When choosing an architecture program, look for one housed within a school that is accredited by an agency recognized by the U.S. Department of Education. More importantly, the architecture program itself should be accredited by the National Architectural Accrediting Board (NAAB). If a professional degree program is accredited, it means that the program meets certain standards of quality in education.
Architecture, like law and medicine, is regulated at the state level. Graduating from a program with NAAB accreditation does not guarantee licensure. But do note that in a number of states, earning a professional degree from an NAAB-accredited program, is one of the requirements for obtaining licensure, as is taking the Architect Registration Examination.
Most online degree programs in architecture require that students have already earned a bachelor's degree in the subject, but some universities offer a separate track for students who have earned bachelor's degrees in other fields. Some also accept all students in one program. In addition to having undergraduate training in architecture, prospective students to online master's program in architecture often must submit:
Portfolio of personal design work
Official college transcript
Resume or CV
GRE test scores
Essay or statement of intent
Letters of recommendation
English proficiency test if English is not their native language
Online Master's in Architecture Programs with No GRE Required
Some online graduate architecture programs do require the GRE. Your test scores provide admissions staff with some evidence of your verbal and quantitative reasoning abilities as well as your critical thinking and analytical writing skills.
However, a few schools offer exceptions. At those schools, the GRE is not required or a GRE waiver is available depending on factors such as GPA and work experience. Some schools will allow applicants to submit their test scores if they already have them, even though it is not needed.
Curriculum in an online master's in architecture program often depends upon whether a student has earned a bachelor's degree in architecture. Graduate programs designed for students with a bachelor's in architecture, will feature seminar, thesis, and design or studio courses that build upon their previous knowledge. If you opt for this type of program, you may expect to study the following topic areas:
Ecological Issues
Urban Planning
Integrated Building Systems
Design/Architecture Theory
You can also select electives, such as Law for Architects, Corporate Finance, Engineering, and Global Leadership. If you have a bachelor's in another discipline, your program may require you to take courses focusing on construction systems, visual communication and research methods, and more.
Depending on your program, you may move through your coursework with a cohort of fellow students. While classes vary by program, overall, curricula will include advanced modeling courses that emphasize conceptual and technical design mastery, supplemented by courses in theory and research, urbanism, building technology, and professional practice. And finally, many programs will require you to submit a portfolio for review at some point during your course of study.
How Long Does a Master of Architecture Take to Complete?
The length of time it takes to finish a graduate degree in architecture depends largely upon your educational and professional background, and whether you enroll as a part-time or full-time student. Students with a non-architecture bachelor's degree usually need to complete a three-year program, while those with a professional or non-professional architecture bachelor's can complete an advanced standing master's degree in two years or less.
After completing the architecture master's degree program, most graduates go on to intern at a design or architecture firm, if they haven't already. All states require a certain number of years of internship work under an experienced architect before new graduates can take the Architecture Registration Exam. After interning and passing the exam, architects can enter staff-level positions in architectural, engineering, and related industries.
Advanced Standing for Architecture Students
A Master of Architecture advanced standing track is a NAAB-accredited professional degree designed for students who have already completed a four-year undergraduate degree in architecture. Often, the advanced standing presents an opportunity to complete the master's program in two years. It is granted to students with an exceptional undergraduate record in a focused pre-professional degree. Advanced standing is usually at the discretion of the admissions committee, based on both studio work and academic achievement.
If you're thinking of pursuing a career in architecture, now may be a good time to do so. The U.S. Bureau of Labor Statistics (BLS) predicts job growth for architects to grow about 3 percent between 2020 to 2030, particularly in environmentally friendly design. In 2020, the United States had almost 126,700 architecture jobs. An architect's salary can be lucrative depending on location and employer. The median salary for architects in 2020 was 81,320 per year, or $39.58 per hour, according to the BLS. The highest 10 percent of architects earned more than $136,310 that same year.
Types of Architect Jobs
Depending upon an architect's area of practice, he or she might specialize in drawing building plans and supervising construction, creating lighting systems or designing infrastructure, plazas, sidewalks, and other public spaces that help a project meld with its surroundings. Once you become an architect and get your architect license, you have several options to choose from. The field's many varieties include:
Residential architect, who specializes in the design and procurement of custom-made homes or additions. This type of architect provides complete service, from developing the design brief to managing the construction spaces. Residential projects are often large and involve teams of designers and consultants.
Commercial architect, who specializes in designing non-residential shopping malls and museums. This type of architect's work is often rooted in the public's interest.
Research architect, who has either become an educator or taken time away from his or her firm. This architect's work may involve writing a book or taking on a research project.
Restoration architect, who specializes in repairing, maintaining, restoring, or extending protected historic properties. This kind of architect must know how to negotiate planning systems and legislation and understand the historic architectural merits of a project and its construction.
Lighting architect, who designs lighting systems for buildings and other spaces.
Interior architect, who specializes in interior design and procurement of a firm's projects. Often found at large firms that have sizable, high-end projects, these architects are different from interior designers, who are not licensed.
Why Pursue a Master of Architecture Online?
Students seeking to earn a Master of Architecture while working in a professional position may find online programs meet their needs. Online master's degree programs offer the benefit of greater educational flexibility and more time-management freedom than traditional programs, enabling you to pursue an education on your own schedule. There are other reasons to consider distance learning options, such as family obligations and ability to relocate if your desired school is in a city miles away from where you work and live. Most state architecture registration boards require at least three years of experience, so working while learning can be invaluable if you're looking to start your careers as soon as possible.
Online architecture master's programs let students explore the profession outside the classroom through live classes held via video conferencing software. They can be a suitable option for busy architects already in the field. Explore your options of online degree programs in the table below and find out the duration of each offering:
Table of Contents
Online Degree Programs
Last updated May 2022