Women's Health Nurse Practitioner Salary and Career Outlook
Specializing in women's health issues may open a world of possibilities. If you are interested in helping women with their health, you may be interested to learn how to become a women's health nurse practitioner. Specialized in women's health, these nurse practitioners offer primary care to women of all ages. Learn more about this career as well as women's health nurse practitioner salary and career outlook.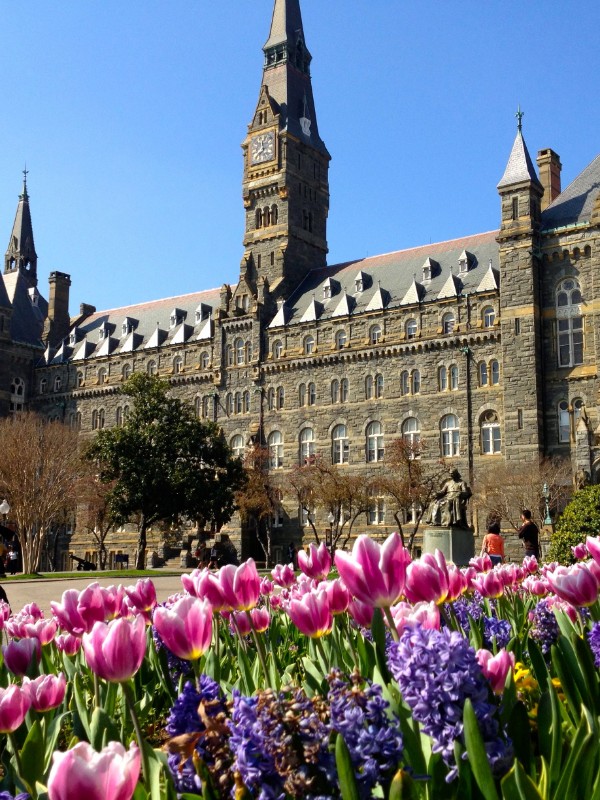 Become a Women's Health Nurse Practitioner Online with Georgetown University
With Georgetown University's online WHNP program, you can become a primary care provider for women's health in as few as 27 months. RN/BSN required.
CCNE Accredited
Complete the 44 credit program in as few as 23 months
Clinical Placement Support
info SPONSORED
What Does a Women's Health Nurse Practitioner (WHNP) Do?
A WHNP degree is an advanced nurse practitioner that has a MSN degree with a women's health specialization through a WHNP program. What does a women's health nurse practitioner do? In general, a women's health nurse practitioner, or WHNP, provides healthcare to women throughout their life span. While WHNPs may focus their practice on reproductive health matters, they may also further specialize in areas such as:
Gynecologic oncology
Infertility
Breast health
Sexually transmitted diseases
Hormone therapy
Maternal/fetal medicine
The specific duties for a WHNP vary widely depending on their specialty, where they work and where their client(s) are in their life span. Here are a few responsibilities they may have:
Conduct wellness exams
Perform ultrasounds
Prescribe medication/contraception
Menopause education and counseling
Order and interpret diagnostic tests and procedures
When you choose to pursue a women's health nurse career, you may go on to take on the role of primary caregiver for women throughout their lives. It is the responsibility of a WHNP to provide diagnostic care and treatment and preventive health maintenance against illnesses unique to women. In addition to earning an advanced healthcare nursing degree, you likely will be certified at both a state and national level.
Where Do Women's Health Nurse Practitioners Work?
According to the American Association of Nurse Practitioners (AANP) fact sheet on nurse practitioners, out of the 290,000 licensed NPs in the United States, WHNPs total 2.8% of nurse practitioners nationwide. With such a small representation, you may ask where does a women's health practitioner work? WHNPs may find employment in several work settings, such as:
OBGYN offices
Fertility clinics
Community health organizations
Private practices
Hospitals
Government organizations
Primary care centers
With findings from the Association of American Medical Colleges (AAMC) indicating a shortage of up to almost 122,000 physicians by 2032, demands for physician assistants (PAs) and advanced practice registered nurses (APRNs) are projected to increase as well. Any increase could open the door for WHNPs to take on physician roles that were not previously available. States that permit women's health nurse practitioners "full practice" authority create opportunities to fill in the gaps this physician shortage causes.
Women's Health Nurse Practitioner Job Outlook
The Bureau of Labor Statistics (BLS) reports a national estimate of 211,300 nurse practitioners in 2019, projected job growth of 45% from 2019 to 2029, which equates to 110,700 positions. This growth rate is much faster than the average for all occupations and is primarily due to an increased focus on preventive care and the need for healthcare services for an aging population. With a current nursing shortage nationwide, nurse practitioners may see an even greater demand for their skills. Women's health nurse practitioners are especially sought after as women tend to seek primary and preventive care more than men.
What Can Affect Women's Health Nurse Practitioner Salaries?
Like most occupations, many factors impact a women's health nurse practitioner salary, such as the number of years worked in the field, speciality and geographic location. Your place of employment also makes a difference in a WHNP's salary. The BLS reports that the median annual wages for nurse anesthetists, nurse midwives and nurse practitioners in top industries for employment in May 2019 were:
Hospitals: $122,420
Outpatient care centers: $118,530
Physicians' offices: $113,190
Offices of other health practitioners: $112,590
Educational services: $108,790
Additional factors that may affect WHNP salaries include the field of specialization and what regulatory structure the state in which you work provides. The American Association of Nurse Practitioners explains "full practice" environments allow NPs to evaluate and diagnose patients, order and interpret diagnostic tests and initiate and manage treatments, which provides a WHNP the ability to administer medications without the need for direct supervision or oversight of the state medical board. The states and territories that currently offer full-practice licenses as of 2020 include:
Arizona
Alaska
Connecticut
Colorado
District of Columbia
Hawaii
Idaho
Iowa
Maine
Maryland
Minnesota
Montana
Nebraska
Nevada
New Hampshire
New Mexico
North Dakota
Oregon
Rhode Island
South Dakota
Vermont
Washington
Wyoming
Guam
Northern Mariana Islands
How Much Does a Women's Health Nurse Practitioner Make on Average?
When determining whether a women's health nurse practitioner job is the right career choice, you may want to consider the average women's health nurse salary. According to the BLS, the median annual income for nurse practitioners was $111,840 in 2019. With the nurse practitioner projected job growth of 45% over the next decade, there may be an increase in wages that will remain above the national average for other occupations.
Try These Cities for Women's Health Nurse Practitioner Jobs
A few key factors may play a role in deciding where to begin your WHNP career. One may be to look for a population that has a higher percentage of women. When searching for ideal cities for WHNP jobs, a second consideration is to find regions that pay women's health nurse practitioners well. According to the BLS, these are the metropolitan areas that paid the highest salaries for NPs in 2019:
| City | State | Annual Mean Salary | Hourly Mean Wage |
| --- | --- | --- | --- |
| Vallejo–Fairfield | CA | $175,060 | $84.16 |
| Spokane–Spokane Valley | WA | $160,110 | $76.98 |
| San Francisco–Oakland–Hayward | CA | $157,150 | $75.55 |
| Longview | WA | $150,520 | $72.37 |
| Sumter | SC | $147,210 | $70.77 |
| Redding | CA | $145,690 | $70.04 |
| Salinas | CA | $145,060 | $69.74 |
| Rochester | MN | $144,980 | $69.70 |
| New Bedford | MA | $144,450 | $69.45 |
| Modesto | CA | $143,530 | $69.00 |
Explore These States for Women's Health Nurse Practitioner Jobs
Similar to finding the ideal city for a WHNP, individual states offer better opportunities for WHNP jobs. Based on data from the BLS, these are the states that hold the highest employment levels for NPs in 2019:
| State | Employment | Annual Average Salary |
| --- | --- | --- |
| New York | 14,060 | $122,550 |
| California | 13,900 | $138,660 |
| Texas | 13,620 | $115,440 |
| Florida | 12.310 | $101,510 |
| Ohio | 8,950 | $103,780 |
Other states you may wish to explore are those that pay the highest salaries for NPs. Although California is the only state on both lists, it should not deter you from considering any of them. The top-paying states for NPs include, per the BLS:
| State | Employment | Annual Mean Salary |
| --- | --- | --- |
| California | 13,900 | $138,660 |
| Washington | 3,870 | $126,920 |
| Hawaii | 420 | $124,000 |
| New Jersey | 6,460 | $123,810 |
| Minnesota | 3,970 | $122,850 |
Women's Health Nurse Practitioner Related Job Titles
Not sure if a women's health nurse practitioner career is right for you? Since the role of a nurse practitioner is found in many work settings, you may want to explore other related nursing degrees and job titles:
Emergency nurse practitioner
Orthopedic nurse practitioner
Adult-gerontology nurse practitioner
General nurse practitioner
Neonatal nurse practitioner
Pediatric nurse practitioner
You may also consider earning an advanced healthcare degree such as a Doctor of Nursing Practice degree. Many accredited institutions offer online nurse practitioner programs that have part-time and full-time study options and do not require on-campus visits. Online programs may require students to complete all necessary supervised clinical hours at local facilities.
Is a WHNP Career Right For You?
Changing or embarking on a new career path may cause you to examine the rewards and respect that could come with your new role. As a WHNP, you may have the opportunity to work in a variety of settings, possibly earn a higher salary than other occupations and help women with their health throughout their lives. The advanced MSN degree requires only a couple of years to complete, leaving you the chance to make a difference in others' lives while earning an above-average salary that may increase over the coming years. If this sounds like the ideal journey for you, then a WHNP career is the path you may want to follow.
Last Updated November 2020