Guide to Online Women's Health Nurse Practitioner Programs
If you are looking to become an advanced nurse practitioner, and interested in working with women throughout their lifespan, then a job as a women's health nurse practitioner may be a good fit for you. Online women's health nurse practitioner programs offer a way to become a women's health nurse practitioner remotely. It may also be a way to complete your academic studies while working.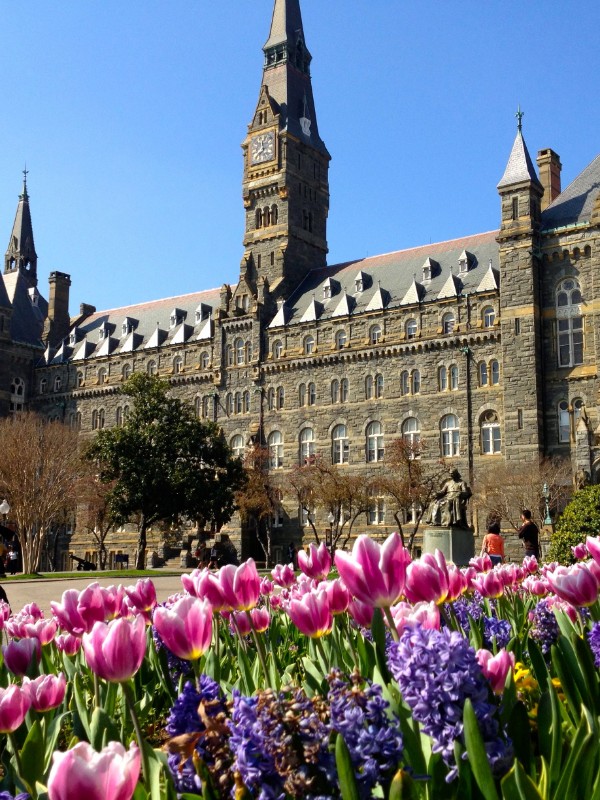 Become a Women's Health Nurse Practitioner Online with Georgetown University
With Georgetown University's online WHNP program, you can become a primary care provider for women's health in as few as 27 months. RN/BSN required.
CCNE Accredited
Complete the 44 credit program in as few as 23 months
Clinical Placement Support
info SPONSORED
What Is a Women's Health Nurse Practitioner (WHNP)?
A women's health nurse practitioner (WHNP) specializes in women's health, according to a National Association of Nurse Practitioners in Women's Health (NPWH) fact sheet. Nurse practitioners are a subfield of advanced practice registered nurses (APRNs), which includes certified nurse-midwives, certified registered nurse anesthetists and clinical nurse specialists, the U.S. Bureau of Labor Statistics reports.
To become a WHNP, a registered nurse (or holders of other healthcare degrees) may need to complete a Master of Science in Nursing (MSN). These individuals may specialize in various niches relating to obstetrics, gynecology, urogynecology, gynecological oncology, infertility and maternal and fetal medicine.
Women's health nurse practitioners may work in a primary care office setting or facilities specializing in women's health, reproductive services and family planning. They may also work in hospitals or focus on academic research and teaching.
In addition, a WHNP may assist with health care management, disease prevention and health promotion for women of all ages. This includes assisting with the birthing process either independently or under the supervision of a medical doctor, Doctor of Nursing Practice or certified nurse-midwife, depending on state requirements.
What to Expect from an MSN in Women's Health Nursing Online Program
Online WHNP programs, or MSN in women's health nursing online programs, may be similar to traditional on-campus programs. Women's health NP programs conducted online may cover the same curriculum as in-person courses, and students likely are held to the same requirements. Online learning may give the added benefit to complete your academic requirements from anywhere. It also may allow you greater flexibility to fit your studies into your schedule—which could be beneficial if you study while working.
Online women's health nurse practitioner programs may involve prerecorded lectures, online discussions and assignments that need to be completed and submitted via the school's online system. There might be some components like orientation, live lectures, skills practice or class conversations that would require real-time participation. This may vary depending on the program you choose to attend.
The clinical experience part of your WHNP program, like other nursing degrees, likely has to be done in person at a clinic, hospital, or other healthcare facilities. Similarly, lab requirements or simulations may be completed on location.
RN to MSN Women's Health Nurse Practitioner Programs
There are multiple pathways to becoming an WHNP. While everyone's journey is different, there are some common routes. Registered nurses who hold either an associate degree in nursing (ADN) or a Bachelor of Science in Nursing degree (BSN) may go on to obtain their MSN. Nurses who hold an ADN and want to pursue multiple NP concentrations may be required to complete their BSN degree. Otherwise, RN-to-MSN programs may be worth pursuing if you have an ADN and are ready to become a WHNP.
Online Women's Health Nurse Practitioner Program Admissions
Admission requirements vary from school to school, but some WHNP programs may have students meet some of these common women's health nurse program admissions requirements:
Hold at least a BSN from a college or university accredited either through the Commission on Collegiate Nursing Education (CCNE) or the Accreditation Commission for Education in Nursing, Inc. (ACEN).
Hold a valid registered nurse license.
Provide official transcripts of previous college work from all schools attended.
Submit at least one (but often three) professional recommendations or reference letters that outline your clinical experience and ability.
Submit a personal statement or essay.
Have a GPA of 3.0 or higher (might be required in some cases).
Complete an undergraduate course in statistics.
Obtain a recent score on the Graduate Record Examination (GRE).
Submit a statement of career goals.
In addition to these requirements, some schools might require you to have a certain number of years of experience as a registered nurse before applying to their women's health nurse practitioner program.
Since the admission requirements differ between schools, there might be some flexibility in their minimum entrance requirements. Some schools might waive individual requirements if you surpass the minimum requirements in specific areas. For example, a GRE score could be waived if you have a high GPA or a master's degree or higher.
Online WHNP Program Curriculum
Some women's health nurse practitioner courses have specific core coursework that may be completed at the beginning of the program. Core coursework may include advanced health assessment, advanced pathophysiology and advanced pharmacology.
After completing the core course work, you may go into more specialized areas of study that could include:
Midwifery care during pregnancy
Primary care for women
Postpartum care
Women's health issues
Scientific underpinning for advanced nursing practice
Family practitioner
Adult-gerontology acute care
Besides these core and specialized programs, some courses may prepare you to sit for certification testing with the National Certification Corporation (NCC). The NCC requires you to complete the certification test within eight years of completing your WHNP program.
Clinical Experience for Women's Health Nurse Practitioners
Women's health nurse practitioner programs may require you to gain clinical experience in the form of a practicum or preceptorship. In some cases, this on-site experience may be completed at the end of the program. However, other schools might require you to complete multiple practicums, and these may be done while you are studying.
The program's clinical experience may allow you to apply the skills and knowledge that you have acquired or are acquiring in a real-world setting. These hours may be completed on location and face-to-face to give you the experience to work directly with patients while under supervision.
Women's Health Nurse Practitioner Certification Requirements
Once you have completed your studies, you will likely have to get state licensing and a certification in women's health nursing. Certifications are awarded by a national organization and are often required to obtain state licensing. You may have to complete a competency-based exam issued by the National Certification Corporation (NCC) to become certified. To take the NCC exam, you will need to hold a current registered nursing license, complete the WHNP program and obtain a master's, post-master's or DNP level of qualification.
The NCC exam can be taken various ways: either at a computer test center or, temporarily, through live remote proctoring, which allows you to take the test from your home (or other location) while being observed by a proctor via your webcam.
Online Women's Health NP Salary and Job Outlook
According to the U.S. Bureau of Labour Statistics (BLS), the median annual salary for nurse practitioners was $109,820 in May 2019. This figure is based on BLS numbers for nurse anesthetists, nurse midwives and nurse practitioners, under which the bureau categorizes WHNPs.
The BLS predicts that the nurse practitioner jobs market will grow by 52% from 2019 to 2029—around 110,700 jobs. Nurse practitioner is said to be the fastest-growing occupation in nursing and the second-fastest-growing occupation in the U.S. economy.
Several factors contribute to the growing demand for persons in nursing roles. This includes the rising rates of chronic conditions, an aging population, a growing emphasis on preventive care and individuals who are permanently leaving the occupation.
Learn more about WHNP career and salary outlook.
Online MSN in Women's Health Nurse Practitioner Programs FAQ
When considering a nursing career as a women's health nurse practitioner and evaluating programs to train as one, you may have some common questions. This FAQ section aims to answer questions you may encounter when looking into this career.
What's the Difference Between an OB-GYN and a Women's Health Nurse Practitioner?
An OB-GYN is a doctor who has specialized in pregnancy, childbirth and female reproductive health. A women's health nurse practitioner is a nurse practitioner who has completed additional studies specializing in women's health. A WHNP may function as both a women's health specialist and a general practitioner. They incorporate a holistic approach that involves treating physical ailments or concerns along with mental and emotional health.
Is There a Demand for Women's Health Nurse Practitioners?
The demand for women's health nurse practitioners is growing. A shortage of primary care physicians has seen more responsibilities falling on nurse practitioners. They can now perform functions that were traditionally only in the scope of primary care practitioners, such as ordering tests and prescribing medication. Nurses and nurse practitioners are quickly becoming critical healthcare members with more significant opportunities and areas for growth.
How Can I Become a Women's Health Nurse Practitioner?
There are different avenues to follow to become a women's health nurse practitioner. Some common steps may include obtaining a bachelor's degree in nursing, gaining experience in the field as an RN, completing a Master of Science in Nursing or Doctor of Nursing Practice program and completing the clinical experience hour requirements.
How Long Does It Take to Become a Women's Health NP?
It takes between two and three years of full-time studying to complete a women's health nurse practitioner program. The required credit hours may vary depending on which specialties you want to follow and the individual program you choose, but an online women's health nurse practitioner program usually requires around 50 credit hours. In addition to completing the program's academic portion, you will likely also be required to obtain several hundred hours in clinical experience.
Last Updated November 2020