Midwife Careers and Salary Outlook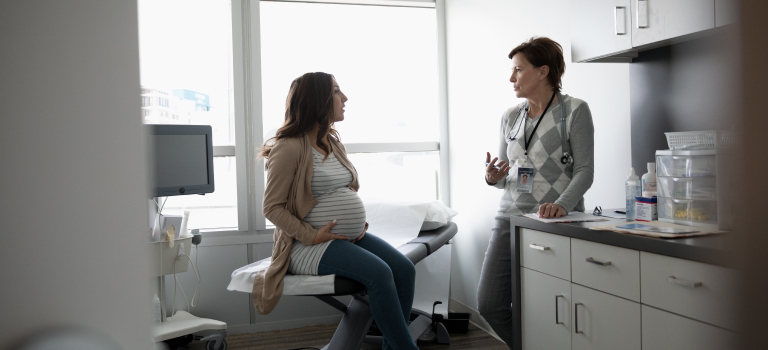 Since 2015, more women are turning to midwives for their reproductive care throughout pregnancy and birth.
According to the American College of Nurse-Midwives (ACNM), "certified nurse-midwives are registered nurses who have graduated from [an accredited] nurse-midwifery education program … and have passed a national certification examination to receive the professional designation of certified nurse-midwife."
For Dee Dee Dirks, the decision to pursue midwifery came after she earned her Master of Science in Nursing in the 1980s. While employed in a high-risk labor and delivery unit, Dirks had the opportunity to work alongside midwives and was impressed with their interactions with women going through labor and delivery.
"I was inspired by the patient way they were caring for women in labor," she said.
Dirks entered the USC Nurse-Midwifery Education Program at the Women's Hospital there and became a certified nurse-midwife (CNM). Currently, she sees patients at UCLA Medical Center.
Back in 1989, just 3.3% of births were attended by a CNM. That statistic has grown. In 2017, CNMs attended 9.1% of U.S. births—a total of 351,968 births.
For individuals interested in reproductive health care and assisting women through the entire pregnancy process, a career as a midwife might be a rewarding choice. The process involves a significant amount of education and training, from earning an undergraduate degree and a master's to undergoing the certification process. There are a range of options when it comes to training, including the convenience of distance learning available through online programs.
Not only is a career as a midwife a rewarding and personally fulfilling professional experience, but it could also help improve overall maternal care in the United States.
What Does a Midwife Do?
A certified nurse-midwife cares for women during their reproductive years, from adolescence through menopause. They provide prenatal care for pregnant women, attending the birth and assisting women with all aspects of labor and delivery. Midwives might also provide care for women and their babies after they give birth, including offering counseling and advice on how to care for a newborn and how to breastfeed. They can also perform preventive exams and diagnose and treat gynecological conditions.
Nurse-midwives work in a variety of settings, including hospitals, private practices, and clinics. The Bureau of Labor Statistics (BLS) reports that there were 6,500 people employed as midwives in 2016. And that number is expected to climb: By 2026, the BLS projects there will be 7,800 nurse-midwives working in the United States.
The work done in this ever-expanding field is vital. The United States has higher mortality rates for women and newborns than other wealthy countries. Combined with a shortage of obstetricians—especially in less populated rural areas—this leaves a health care gap that midwives can fill.
Midwives work with patients from all walks of life. They work with parents-to-be strategize how to plan for a growing family, provide a needed source of advice in preconception care—helping a woman safely conceive—and prenatal care by giving assistance and addressing health concerns for a woman while she's pregnant. Think of a nurse-midwife as a helpful guide who will be there for a woman and her family throughout the whole process or pregnancy and birth.
"We focus on normal physiologic expectations of pregnancy and birth," Dirks said, noting that midwife-assisted labor and delivery can include all of the medical interventions an obstetrician may use, but many of their patients are interested in nonmedicated births.
Midwives are there in the delivery room and will be available for a new mother in the days and weeks after giving birth, helping them recover and answering questions about the care of their newborn.
Steps to Becoming a Nurse-Midwife
Becoming a midwife is a rigorous process and involves numerous steps:
Research undergraduate degrees in nursing, which is a requirement to become a CNM. Look for undergraduate programs accredited by organizations such as the Accreditation Commission for Education in Nursing (ACEN) and the Commission on Collegiate Nursing Education (CCNE).
Enroll in the right program for you. Earn a Bachelor of Science in Nursing (BSN) degree that fits your interests and budget.
Get registered. You will need to become a registered nurse (RN) in your state.
Work in the real world. A year of professional nursing experience after leaving your accredited program is preferred.
Apply to a graduate program. Find a graduate program in midwifery approved by the Accreditation Commission for Midwifery Education (ACME); this is necessary to become a fully certified CNM. You can pursue a two-year master's degree or a four-year doctoral program. Most people who become nurse-midwives have a graduate degree of some kind. The ACNM reports there are currently 38 ACME-accredited midwifery programs in the United States—and about 82% of people in this field have master's degrees. Additionally, 4.8% of CNMs have doctoral degrees, the highest of all advanced practice nurses (APRN).
Take the test. All certified nurse-midwives have to take a national certification exam. Administered by the American Midwifery Certification Board (AMCB), the four-hour exam consists of 175 multiple-choice questions and costs $500 to take.
Stay certified. You'll have to renew your AMCB certification every five years. This means taking the test or going through 20 hours of recertification classes and participating in three different training modules to make sure you stay up-to-date with standards of the field.
Career and Work Space of a Nurse-Midwife
Where does a midwife work? Nurse-midwives are employed at a range of places, including private OB/GYN practices, hospitals, health clinics, birthing centers, and health departments. Midwives also work in public and private universities – according to the BLS and military hospitals – according to the U.S. Airforce careers section.
Midwives provide in-home care as well, says Dirk, who has assisted with home births.
A normal working day can run anywhere from 8 to 12 hours or more, depending on the work environment. Weekend, evening, and holiday work may be required, too.
What is the career outlook of a nurse-midwife? Increasingly, midwives are viewed as a safe, practical , and nurturing health care option. As noted in The Atlantic, increasingly more mothers are turning to midwives instead of physicians in the United States, possibly taking a cue from the popularity of midwife care in other developed countries including England, where midwives lead care in more than half of all births.
A Certified Nurse-Midwife (CNM)
Trust in midwifery care rests on the fact that they are highly trained professionals. Certification is key for anyone interested in the field. A certified nurse-midwife has undergone years of intensive education, training, and certification to be able to authoritatively take on all of the responsibilities that come with providing care to women and their newborns—from conception and birth to life as a new family.
Becoming a nurse-midwife requires obtaining a BSN followed by taking and passing the National Council Licensure Examination (NCLEX-RN) to become an RN. Aim to obtain at least a year of experience as an RN before pursuing further education.
Complete a MSN or a Doctor of Nursing Practice degree (DNP). In order to be a practicing CNM, nurses are required to take and pass the national AMCB exam, and then become re-certified every five years.
For those who earned their RN status through an associate's degree, you'll have to seek out an additional bridge program that will allow you to pursue a graduate degree without having earned your bachelor's. Once you earn your degree, you'll need the necessary midwife certification.
Online Nurse-Midwife Programs
For those looking to pursue a career as a CNM, there are various options—including online midwifery programs. These programs generally offer a mixture of online coursework and clinical hours.
Clinical hour requirements will vary depending on your experience and past education. Some programs might require as many as 80 credit hours and 1,200 hours if a nurse is less experienced. But for more experienced nurses, requirements may be as low as 24 course credits and 600 clinical hours.
While there are plenty of benefits to pursuing a campus program, online opportunities make it easier to juggle school and work and allow current nurses to continue their jobs while working on their midwife certification.
Online programs have rigorous admissions requirements and require a range of courses, from prenatal and reproductive health care to infant care.
Ready to Begin your Career? Explore Online Midwifery Programs
What Is the Salary of a Certified Nurse-Midwife?
What is a nurse-midwife's salary? The BLS reports the average hourly wage of CNMs in 2018 is $51.40, with the average annual wage standing at $106,910. Those in the bottom 10th percentile reported an hourly wage of $33.70 and an annual wage of $70,100. Those in the top 90th percentile earned an hourly wage of $72.63, which comes out to an annual salary of $151,070.
A nurse-midwife salary can vary depending on where you're based. The BLS reports that midwives hired by local government groups—not including schools and hospitals—have the highest annual average salary, at $155,650. Workplaces with the lowest compensation for nurse-midwives are colleges, universities, and other professional schools. The annual mean wage for midwives in these settings is $103,520.
Highest Paying States for CNMs
According to the BLS, these are the highest-paying states for CNMs as of 2018:
| State | Number of Jobs | Hourly average wage | Annual average wage |
| --- | --- | --- | --- |
| California | 700 | $67.30 | $139,990 |
| Massachusetts | 250 | $57.40 | $119,380 |
| Maryland | N/A | $55.50 | $115,440 |
| Arizona | 100 | $55.24 | $114,900 |
| New Jersey | 180 | $54.80 | $113,980 |