How to Decide If Nursing School is Worth It
Caring for patients. Working with doctors. Saving lives. There are countless reasons to go to nursing school—but starting a career in health care may seem daunting to you. From picking the right specialization, which nursing degree level is the right fit (RN, BSN, MSN or DNP), to long hours at work, you may be left wondering if nursing school is worth it.
While nursing school isn't for everyone, many people find it to be an incredibly rewarding experience. A nursing education can offer candidates professional accreditation, life-saving skills and more. Read on to learn more about whether to apply to nursing school—and how it can be the start of a successful career.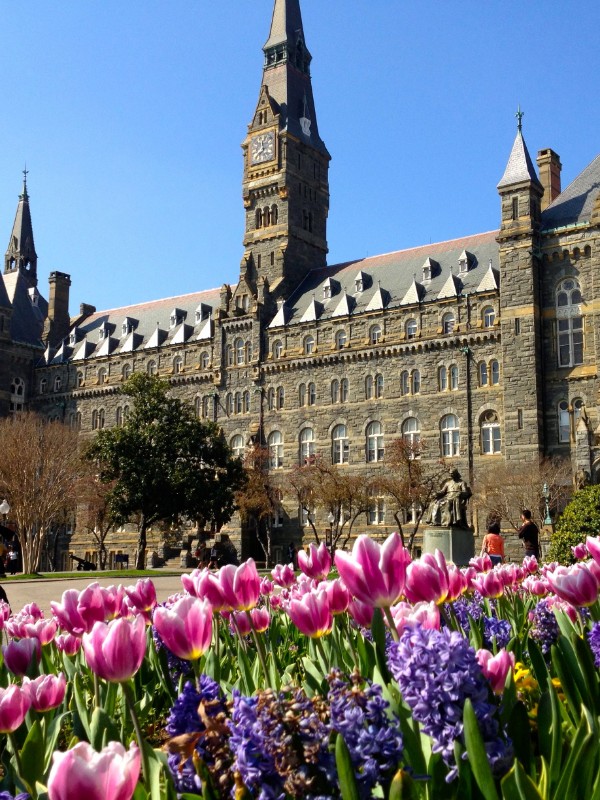 Become a Nurse-Midwife in as Few as 27 Months at Georgetown University
With Georgetown University's online Nurse-Midwifery/Women's Health NP program, learn to manage women's health and care for healthy newborns.
CCNE Accredited
Complete the 49 credit program in as few as 27 months
Clinical Placement Support
info SPONSORED

Earn Your MSN Online from Simmons University
Earn an MSN online from Simmons University. Choose from two program options — FNP or PMHNP — and prepare to raise the standard of patient care.
Choose from two program options — FNP or PMHNP
Complete in as few as 24 months
Full-time and part-time tracks available
info SPONSORED
Questions to Ask When Considering If Nursing School is Right for You
Before you go to nursing school, carefully weigh the pros and cons. If you're considering nursing school, be sure to do your research first. Asking yourself the following questions can also help you determine whether a nursing degree and career are a fit for you:
Am I Pursuing a Nursing Career for the Right Reasons?
Nursing is a vocation, and not one to be taken on lightly. Though nursing can be a lucrative career path (with nurses earning above-average salaries), it requires hard work and dedication. Before you become a nursing student, you should be sure it's what you really want to do—rather than committing hastily and dropping out later, wasting both time and money.
What Level Degree Should I Pursue?
There are multiple degree paths you can choose to pursue in the nursing field, each one with varying prerequisites.
If you're just starting out in your career, an associate's degree or a BSN are two options that can prepare you to sit for the NCLEX exam and obtain RN licensure. An RN (Registered Nurse license) or a BSN (Bachelor's of Science in Nursing) are two options for you. If you're an experienced nurse with your RN license or an RN and BSN, and are looking to further specialize in the field, then a MSN (Master's of Science in Nursing) could be the best nursing degree choice for you. To be admitted into most MSN programs, you'll typically need to have a current RN license, but may also require an BSN.
Lastly, if you already have an MSN and wish to continue on with your studies, then a DNP (Doctor of Nursing Practice) is an option you have. Each one of these educational paths will help determine what type of title designation you'll eventually have as well as your overall earning potential.
What Qualities do Nurses Have?
Nursing is a people-centric job. Nurses can be sociable and often have generous dispositions—whether liaising with doctors, helping patients, or supporting their families. If you find sensitivity or compassion challenging, nursing school may not be the best choice for you.
How Much Time and Effort Can I Commit to my Studies?
Imagine you want to become a family nurse practitioner (FNP). To get there, you'll need to earn a Bachelor of Science in Nursing (BSN), then a specialized Master of Science in Nursing (MSN). Even full time, a BSN takes around three years to complete, while an MSN can last another two. Part-time options usually take longer.
In addition to remaining engaged in the classroom, nursing candidates should be confident working in clinics. They can build this confidence through field experience, which is often incorporated in the curriculum.
Can I Fit My Job with My Lifestyle?
After you get into nursing school, you may find studies clash with your lifestyle. Vacations may have to be postponed and part-time jobs abandoned. Nursing may also involve unpredictable hours—depending on your nursing role,12-hour days and night shifts are common. You should be ready to balance your career with other priorities.
Nursing Can Be Stressful—Am I Ready?
Nursing is a serious business, both as a student and in the working world. You have to deal with sick and elderly people, and the decisions you make can literally save lives. If you struggle under pressure or find the responsibility too daunting, you may want to consider another career path.
How Hard is Nursing School, Really?
What makes nursing school hard? Is nursing school as hard as medical school? These are natural questions, given nursing school's intense curriculum and demanding workload. But that doesn't mean nursing school is impossible—far from it! Remember that as a nursing student, you'll be supported by educators and colleagues throughout your studies.
Along with being quicker to complete than medical school, nursing school can also be less competitive and may require less specialization. One way to gauage a school's overall competitiveness and effectiveness at the BSN level is to look at the program's NCLEX exam pass rate, if you're looking for overally competiiveness at the MSN or DSN level, you could look at student outcomes posted by the school.
And don't worry too much about past grades either. Even if you find math hard, or struggled in a science class once, some BSN nursing programs require a minimum high school GPA of 2.5. Various nursing programs, ranging from BSN to DNP, can also be completed online. This option is ideal if you want to balance working and studying.
Financial Return on Investment for a Nursing Degree
For many aspiring nurses, their dedication to helping others comes before compensation for the job. But financial return is important and is another reason you may want to apply for a nursing degree.
In general, a four-year BSN can cost thousands of dollars. An MSN too—one that focuses on family nursing, for example, may cost you more than $40,000. That might sound like a lot—but the above-average wages of FNPs can make for a sound nursing school return on investment. According to 2019 pay data from the U.S. Bureau of Labor Statistics (BLS), nurse practitioners earn a median salary of $109,820 per year—meaning you may be able to pay off expensive tuition and loans quickly.
Though nursing salary varies by job title and location, demand across the board is growing. The BLS predicts that the need for nurse practitioners will grow by 26% from 2018 to 2028. And employment of registered nurses is projected to grow 12% during the same time period. Back up your schooling with continuous education to keep your skills in demand long into the future.
How Does Life Change After a Nursing Degree?
Life can change fundamentally after you become a nurse. Apart from becoming a professional with deeply marketable expertise, you'll be a literal lifesaver. Both undergraduate and graduate nursing degrees offer valuable life skills, from applying bandages to giving injections. As previously discussed, there's also the opportunity to gain a financial return on your investment in a nursing degree.
Be mindful that all of these benefits may come with long working hours and at times, a high-stress work environment. But your field placements will often prepare you for this.
Alternatives to Nursing Degree Programs
Though nursing is a deeply worthwhile career path for many people, it's not for everyone. Perhaps you want to specialize more than nursing allows, or maybe life-and-death work makes you nervous.
Fortunately, there are many alternatives to nursing school. Here are some other care related roles choices you can consider:
Physical Therapist
More specialized than nurses, physical therapists help injured people and those who are unwell to improve movement and manage pain. Doctor of Physical Therapy programs typically take three years to complete, though students normally have to finish a three-year undergraduate program first. Qualifying as a physical therapist therefore takes about as long as an equivalent nursing qualification.
Speech Language Pathologist
Speech-language pathologists diagnose and treat communication and swallowing disorders in children and adults. To become a speech language pathologist, you typically need a regular undergraduate qualification and a two-year master's degree in speech-language pathology or communication sciences and disorders. Because of this, it takes roughly the same amount of time to become a speech language pathologist as it does to obtain an MSN in nursing.
Physician Assistant
Fulfilling a similar role to nurses, physician assistants diagnose illnesses, develop treatment plans and prescribe medications. Like with MSNs, you need a master's degree to become a physician assistant — so you'll likely spend the same amount of time studying as you would to become a family nurse practitioner.
Last Updated July 2020