How to Stay Physically, Emotionally, Cognitively, and Socially Healthy After 65

Healthy aging is a familiar phrase in communities of elder adults and caregivers, conjuring up an image of growing old with minimum discomfort and the most enjoyment possible. A specialist in geriatric care, however, might offer a more nuanced picture given the medical realities of health after 65.
Most older adults (around 80%) have at least one chronic disease, according to the National Council on Aging, and about 77% have two. Even individuals who maintain active lifestyles are likely to experience some decline of health in old age.
Below, find guidance on each area of physical, emotional, cognitive, and social health for older adults — as well as their nursing providers, caregivers, and families — from professionals who work directly with geriatric populations.
How to Promote Physical Health in Older Adults
The human body changes significantly with age and over time. Older adults may begin to notice their skin thinning as they lose muscle tone, creating a drooping appearance, according to the Mount Sinai Health Library. Fat tissue often starts to build up, particularly around the internal organs at the center of the body. Hair grays, due to the follicles making less melanin, and nails become more brittle and yellow.
Beyond these natural aging processes, older adults likely have a variety of physical health concerns to address. As adult and geriatric nurse practitioner Teresa Cating, DNP, MSN, RN, AG-N, NP-C, put the matter in Home Healthcare Now, "As practitioners, we are faced with a list of diagnoses such as chronic kidney disease, chronic obstructive pulmonary disease, heart failure, hypertension, anemia, cancer, Parkinson disease, and chronic urinary tract infections… and that may be all from the same patient!" Chronic pain and a history of falling may also factor into older adults' health and well-being.
While natural aging processes cannot be stopped, older adults can take proactive measures to support their physical health and improve their chances of recovering from falls and illnesses.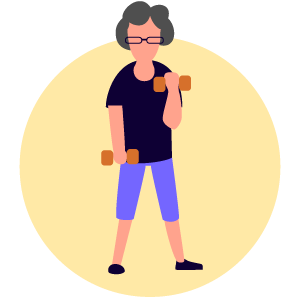 3 Tips for Seniors to Stay Physically Healthy
1. DO STRENGTH EXERCISES FOR OLDER ADULTS
Oscar Martinez, certified personal trainer and fitness advisor at the Elvira Cisneros Senior Center, part of the WellMed Charitable Foundation, counsels clients to target three areas: the back, rotator cuffs, and legs. The following strength exercises for older adults can help; consult with a fitness instructor for guidance on repetitions and weight based on your fitness level and goals.
Back Exercises
● At the gym: seated cable rows
● At home: bent-over reverse flys
Rotator Cuff Exercises
● At the gym: repetitions on the pectoral fly and rear deltoid machine
● At home: door frame exercise
Leg Exercises
● At the gym: leg presses
● At home: seated ankle circles and standing calf raises
Avoid lifting anything overhead with excess weight, and always discuss with a health professional before starting a new exercise routine.
2. MAINTAIN HYDRATION
Over time, people lose their sense of thirst, just as they may lose their senses of hearing and vision, said Martinez. As a result, older adults can become dehydrated without realizing it — a common cause of hospitalizations for those over 65. Generally healthy people should aim to drink eight 8-ounce glasses of water a day, according to the Mayo Clinic, but a geriatric care provider can help determine how much your body needs.
Try fruit-infused water: Slice oranges, lemons, and limes and soak them overnight in a pitcher of water.
3. WORK ON FALL PREVENTION WITH VISITS TO A PODIATRIST
Seeing a podiatrist for footcare can help prevent falls, according to a report in The Nurse Practitioner. Each year, around a third of adults over 65 experiences a fall — a leading cause of injuries, both fatal and nonfatal. A podiatrist can help you choose appropriate footwear and accessories, such as nonslip socks, and determine when surgical intervention is appropriate for fall prevention.
Combat Depression in Seniors using Emotional Health Activities
Emotional health encompasses psychological and social well-being, according to Mentalhealth.gov. Maintaining it is equally important for older adults as for children and younger adults, whose concerns tend to receive more attention in the media.
"We don't lose our concern about mental disorders once people get older," said Peggy Plunkett, MSN, APRN, MPHCNS-BC, a clinical nurse specialist at Dartmouth-Hitchcock Medical Center in a presentation to registered nurses.
Furthermore, the chance of depression increases as individuals develop more chronic illnesses, said Plunkett.
Sometimes symptoms can overlap or be mistaken for each other, further complicating treatment.
"Just because someone has dementia doesn't mean they also can't be depressed as well," said Veronica Rivera, geriatric specialist at the Martha Stewart Center for Living and assistant professor of geriatrics and palliative medicine at the Icahn School of Medicine at Mount Sinai.
Seeing a provider is important for teasing apart these symptoms and addressing concerns. Practicing habits of people who age well can also support older adults' emotional well-being.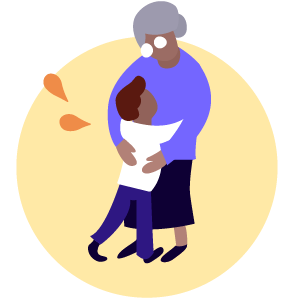 3 Tips for Seniors to Stay Emotionally Healthy
1. GET ADEQUATE SLEEP
The National Sleep Foundation recommends seven to eight hours of sleep nightly for older adults. Sleep disturbances become more common with age and can occur in healthy individuals, according to the Mount Sinai Health Library. Practicing sleep hygiene, such as limiting daytime naps, can help, and a care provider can help determine whether a sleep disorder is at play.
2. AVOID OR ADDRESS SUBSTANCE ABUSE
A 2017 report (PDF, 726.92 KB) from the Substance Abuse and Mental Health Services Administration suggested that the prevalence of substance abuse disorders (SUDs) in older adults was projected to rise — up to 5.7 million by 2020. Whether related to alcohol, illegal drugs, or medications, these disorders require treatment. A geriatric care provider can help you develop a holistic treatment plan for recovery.
3. FIND MEANINGFUL WORK AS YOUR FINANCIAL SITUATION ALLOWS
Purpose in life — having goals and a sense of direction and experiencing meaning — is associated with positive health outcomes for older adults, including fewer chronic conditions and reduced mortality, according to a 2018 study in Population Health Management. Engaging in meaningful work even after retirement is one way to experience purpose. Consider opportunities that align with your interests, such as:
• Volunteer with the U.S. Election Assistance Commission to support local elections.
• Reach out to nearby colleges and universities to "adopt" a student.
• Sign up for an art class at a local gallery.
Cognitive Activities for Seniors
Cognitive health refers to the ability to clearly think, learn, and remember, according to the National Institute on Aging (NIA). Cognitive exercises, like word puzzles and Sudoku, are often cited as tools for helping adults of any age keep their brains healthy, strong, and stimulated.
Activities like these can build an individual's "cognitive reserve." Having a cognitive reserve can support an individual's mental functioning by compensating for brain changes related to aging or disease.
However, said Rivera, "There's no real evidence on which exercises would help for cognitive health." She advises older adults that any activity they find stimulating and enjoyable can benefit their cognitive health.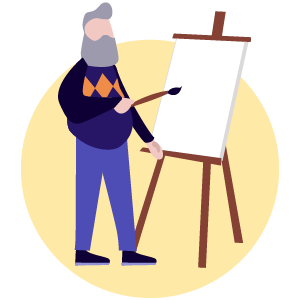 3 Tips for Seniors to Stay Cognitively Healthy
1. TRY SUDOKU — OR ANY OTHER STIMULATING ACTIVITY
Keep playing Sudoku if you enjoy it, said Rivera. But know that puzzles and "brain games" are not the only way to keep the mind engaged. Read the newspaper and magazines, write emails, engage with communities on Facebook, or fill a notebook with old memories.
2. LEARN A NEW SKILL OR ACTIVITY
Take on something new that aligns with your interests. Local colleges and universities may allow community members to audit courses. Some gyms offer specialized classes for senior citizens at discounted rates. Many communities have senior centers that host lectures, hold classes, and plan activities.
3. INVEST IN STRESS REDUCTION, IF POSSIBLE
Talking with a mental health counselor can support your overall cognitive health — even if you do not have a specific psychiatric diagnosis. Ask your primary care provider for a referral and consider scheduling a wellness visit to help with stress management.
Optimizing Social Health in Old Age
Older adults may struggle to find opportunities to engage socially for various reasons. Their ability to drive may be diminished, so they can no longer transport themselves to gatherings they once enjoyed. They may have lost a spouse or partner who managed their social calendar. Or, an older adult may simply be out of the habit of making new friends.
Adriana Torres, supervisor at the Elvira Cisneros Senior Community Center in San Antonio, Texas, has observed many older adults in her community dealing with loneliness when they first come to the center.
"They say, 'Well, my spouse just passed away, and I'm just at home, and the kids are gone. All my friends have died,' and they're just really depressed," she said.
Isolation, lack of social support, and loneliness can make managing mental and physical conditions even more challenging for individuals. Actively engaging in the community in spite of these barriers can improve older adults' well-being and satisfaction with life.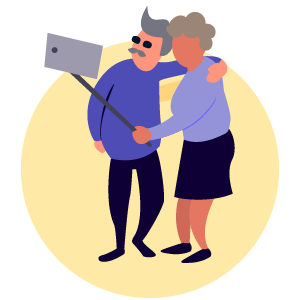 3 Tips for Seniors to Stay Socially Healthy
1. FIND A SOCIAL ORGANIZATION SPECIFICALLY FOR OLDER ADULTS
Many towns and cities invest in senior centers that offer social activities and companionship for older adults. Reminding yourself that many people in these communities are also seeking friends can help ease anxiety about starting conversations.
2. ENGAGE IN CIVIC ACTIVITIES
Volunteering to support local civic activities can help you stay connected to your community, and may have mental health benefits. A 2016 study, for example, found that volunteering lowered depression levels in adults over 65. Activities can be political (i.e., registering people to vote) or not (i.e., planning a community garden).
3. CONSIDER A GROUP EXERCISE CLASS
Exercising in groups led by an instructor is an opportunity to both engage with others and improve your physical health. Look into SilverSneakers, a fitness program included in many Medicare plans that connects older adults with gyms and fitness centers in their communities.
Please note that this article is for informational purposes only. Individuals should consult their health care provider before following any of the information provided.